Barracuda SSL VPN Gateway
The Barracuda SSL VPN is an integrated hardware and software solution enabling secure, clientless remote access to internal network resources from any Web browser. Designed for remote employees and road warriors, the Barracuda SSL VPN provides comprehensive control over file systems and Web-based applications requiring external access. The Barracuda SSL VPN integrates with third-party authentication mechanisms to control user access levels and provides single sign-on.
Enables access to corporate intranets, file systems or other
Web-based applications
Tracks resource access through auditing and reporting facilities
Scans uploaded files for viruses and malware
Leverages multi-factor, layered authentication mechanisms,
including RSA SecurID tokens
Integrates with existing Active Directory and LDAP directories
Utilizes policies for granular access control framework
Supports any Web browser on PC or Mac
SSL VPN Gateway

Powerful, Complete Solution
Installed in a matter of minutes, the Barracuda SSL VPN enables complete control over the resources designated for external access, such as internal Web applications, file systems and other applications. From any Web browser, users connect to internal Web sites through a built-in reverse proxy for access to network file shares. Richer support for SSL tunneling is enabled through the Barracuda SSL VPN Agent, a lightweight Java client that supports common remote applications, including Remote Desktop Services, Citrix XenApp, VNC, NX, SSH and Telnet.

For complete network layer access, the Barracuda SSL VPN includes the Barracuda Network Connector, an installable VPN client for TCP or UDP connectivity. With the Barracuda Network Connector, users gain SSL access to legacy client/server application during a VPN session.

With robust security and auditing features, administrators define custom policies to govern resource access to particular users or groups while tracking user activity. For added security, files uploaded during a VPN session to network file shares or internal Web sites are scanned for viruses and other malware to prevent infections of critical network resources.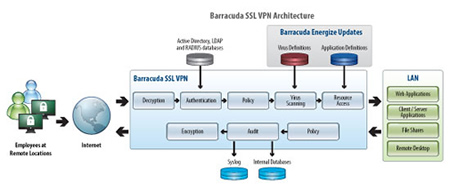 Best-of-Breed Access Control
Remote access by nature can be risky exposing network resources across the Internet. However the Barracuda SSL VPN mitigates these risks by tightly controlling user access through a full suite of authentication mechanisms and support for third-party authentication, such as Active Directory or LDAP. Administrators have the option to layering security by enforcing the use of PIN numbers, hardware tokens, client certificates and other forms of secure authentication on top of AD or LDAP.

By restricting usage to internal resources upon presenting the correct credentials and token code, an organization securely manages external access to network resources. The policy-based access control framework integrates into existing AD or LDAP schema to grant users rights and permissions. For added granularity, administrators have the option of setting policy to set and limit network resources by AD or LDAP rights. Once access is granted, the adminstrator monitors resource access from VPN clients by the use of the auditing feature.
Easy to User
With no software to install and minimal configuration of the firewall, installation of the Barracuda SSL VPN is quick and easy. Once installed, the system administrator uses the intuitive Web user interface for monitoring and maintenance. With Barracuda Energize Updates, the Barracuda SSL VPN is continuously updated with the latest virus and application definitions every hour keeping maintenance at a minimum and eliminating administrative overhead. Updates are provided by Barracuda Central, an advanced 24x7 security operations center that works to continuously monitor and block the latest Internet threats.
Affordable
With no per user fees, the Barracuda SSL VPN is the most affordable enterprise-class SSL VPN solution available.